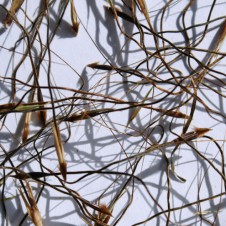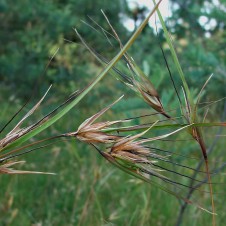 General Description: A robust, tufted, perennial grass, to 1 m tall, with a branched flower head, to 25 m long, supports large, chaffy flowers.
Flowers and Fruit: Purple/green decorative flower-heads change to glossy brown in summer, flowers from October to March. Noticeable black corkscrew shaped awns attached to the seeds form in each flower-head. With the presence of moisture the seed will dig itself into the earth.
Site Preference and Tolerances: Drought and frost tolerant, mildly salt tolerant and adapts well to a wide range of conditions. Prefers full sun or semi shade. Adaptable to any soil except water-logged but prefers moist well drained sites.
Life Span: This is a fast growing long lived perennial grass that persists well in the Australian environment.
Wildlife Value: Provides habitat for butterflies, moths and other insects as well as lizards and birds. It is a butterfly food plant as it provides food for caterpillars of Ringed Xenica, Klug's Xenica, Common Brown, Otways Shouldered Brown and Shouldered Brown. Seeds are sought after by grazing native animals such as kangaroos.
Other Values and Uses: Forms an attractive dense tussock grass with rusty-red flowers held above the foliage in summer. Is useful in a rockery or among established plants. It makes a good alternative to ornamental grasses and it is possible to rejuvenate old tussocks by pruning severely or burning in winter/spring. Useful for general erosion control and for recharge planting as it is a summer growing species which is able to utilise large amounts of summer rain which enters the water table under annual pastures. An attractive grass especially when grown in pure stands. Remains green for a long period over summer. Canopy removal by fire or grazing is beneficial every two to three years.Seeds were collected and ground into flour by Aborigines and then baked into a damper. Aborigines also used stems and leaves to make fibre for string which was made into fishing nets
Other Scientific Names: Themeda australis
Germination Information: Usually grows in a few weeks without any treatment.